Published by James Dunworth
If you don't have an in-depth knowledge of vaping, stocking your shop with vape products can be a daunting business. However, as vaping continues to displace smoking, it's becoming increasingly important for shops to include at least some vape products on their shelves.
In this guide, we'll break down what you need, in order of importance, from the most essential items through to a comprehensive product range that will rival specialist vape retailers. We'll also include examples of some of the most popular products in different categories to help you make informed decisions and select products that will work for your customers and your business.
What vapes to stock in your shop: At a glance
The essentials
Good to have
Starter kits
Spare pods and coils
10ml vape juice and nicotine salts
Advanced range
Mod kits and devices
Vape tanks
Pod Mods
Shortfills and nicotine shots
Replacement batteries
Disposable vapes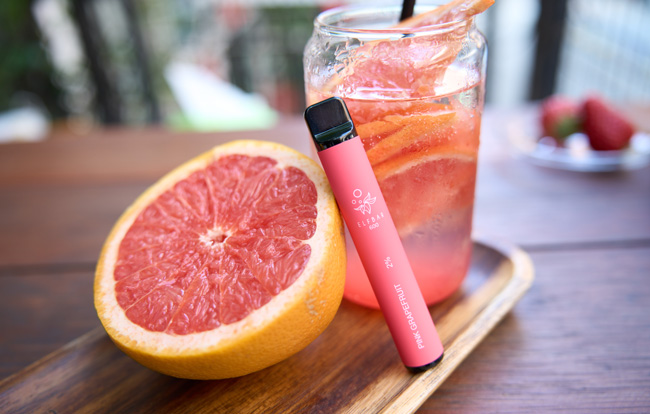 Disposable vape devices are the easiest vape devices to use, and the most straightforward to stock. A vaper simply inhales on the device to use it. When the device is finished, they are thrown away. Disposable devices are currently highly popular, are used by all demographics and many retailers now stock them.
Top sellers include: Elf Bar, Lost Mary
Read more:
Vape starter kits
Until recently (since disposables rose in popularity), most people began their vaping journey with a starter kit. These are simple to use devices and are designed to make vaping as easy as possible.
In some ways, the word 'starter' is a misnomer, many people will continue to use a starter kit and never progress to something more advanced. 'Vape starter kits' is a catch-all term which can include many different kinds of devices. Due to their enduring popularity, we recommend having at least a couple of these kits in your store where space & budget allows.
Types of vape starter kits include:
Vape pens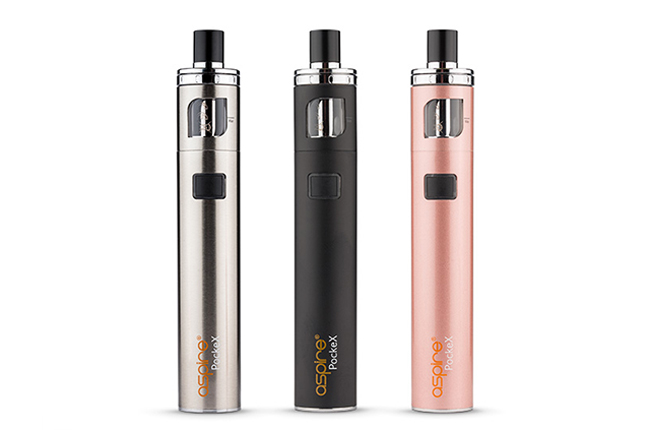 Vape pens are usually simple all-in-one vape devices that owe their name to their long, round design. They are currently one of the most searched for vape-related terms on the internet.
These devices are often refillable and rechargeable, requiring separate purchase of e-liquids for filling before use. They also require coils (the heat element) to be replaced from time to time. Whilst one spare coil is often included with the vape pen kit, it is recommended to stock packs of replacement coils that are compatible with the kits you stock.
Vape pens are ideal for people seeking a slim, pocket-friendly device. They are generally simple to use, though some do have a high wattage output, making them suitable for more experienced vapers too.
Top seller: Aspire PockeX.
Pod systems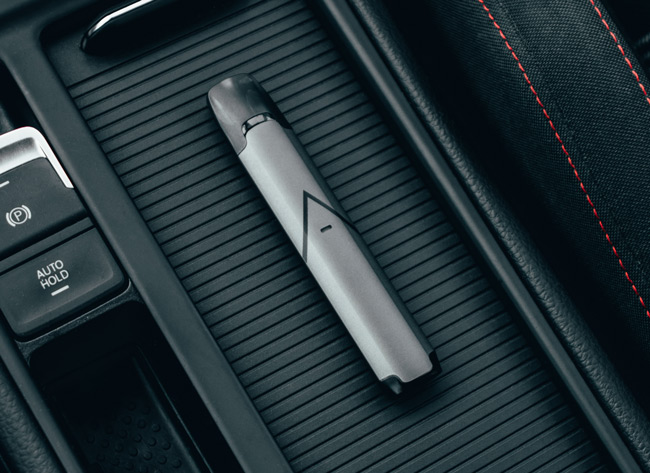 Pod systems consist of two parts, a pod and a battery. Typically, the pod will clip into the battery.
The majority of pod vapes are refillable and require separate e-liquid for filling. Replacing coils for these refillable devices is much the same system as with vape pens, though for many models use fixed-coil pods where it's simply a case of swapping out the entire pod.
Other pod vapes use pre-filled pods. When a pod runs dry of e-liquid it is disposed of, with a full replacement clicked into place on the battery. Pre-filled pods remove the need for separate e-liquids and coils, so offer simplicity for stores and customers, though are less economical than refillable devices in the long run.
As with vape pens, it is recommended to stock the relevant pods & coils for any devices you sell.
Many non-specialist shops will carry at least one or two devices.
Top sellers include: Vaporesso Xros Mini & Hexa.
Vape mods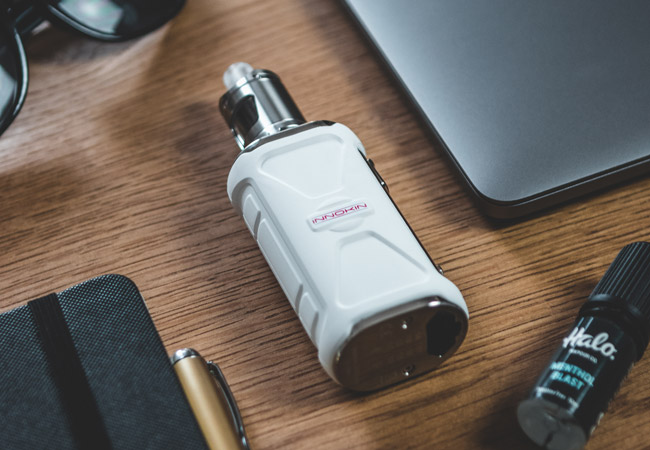 Vape mods are usually larger devices with more battery power and (often) a wider power range. They are usually bought in a kit that includes a vape tank.
Originally, they were often difficult to use, but modern devices are far simpler. Some come with advanced modes which only experienced vapers will use, but even these often have a 'Smart Mode' designed for less experienced vapers. A small number of vape mods are designed for beginners - an example being the Innokin Adept Zlide.
Vape mods are not as popular as starter kits or disposable devices. However, they do appeal to certain demographics who want a larger, more macho device, as well as to more experienced vapers. If you have room it's certainly worth stocking a small selection of mod devices.
Top sellers include: Vaporesso Target 200 and the Geekvape L200.
Vape tanks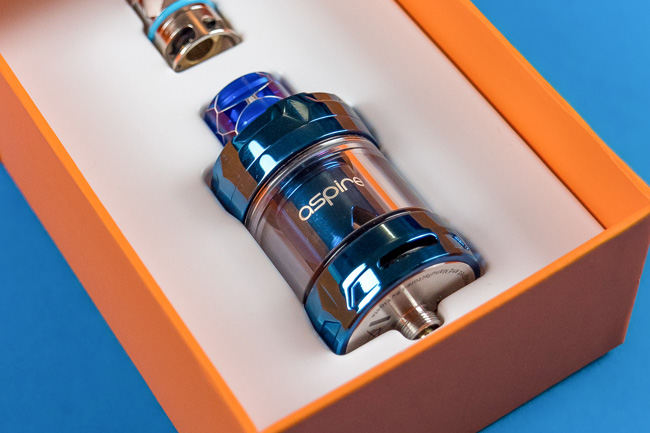 Vape tanks are usually bought along with a mod device in a kit, and the majority are only worth including if you are looking to stock a comprehensive range of devices. However, there are some older tanks which remain highly popular with experienced vapers due to their simplicity and reliability. The most popular of these are the Aspire Nautilus Mini and the Aspire BVC ET-S clearomiser.
Due to the almost standard use of 510 connections, most vape tanks can be used with most vape mods.
Pod mods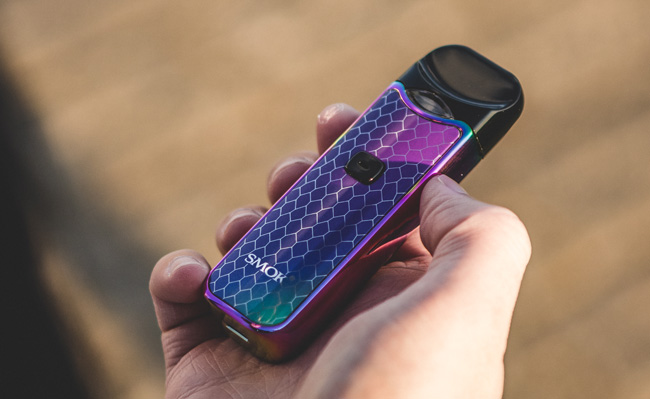 As the name suggests, pod mods are a cross between pod and mod devices. They retain some of the simplicity of a pod device, but are usually larger in size and have a larger battery life and wattage range.
Pod mods have become a popular alternative to mod devices. While less sought after than starter kits and disposable devices, it is worth having a couple of devices in store if space allows.
Top sellers include: Smok Nord 4, Voopoo Drag S Pro.
Vape juice
Vape juice is a liquid used in vape tanks and devices that usually (but not always) contains nicotine. When heated, it produces vapour. One of the most important things to note is the naming. While vape juice has come to be the most common term, it is also widely called e-liquid, especially by the industry. It can also be called e-juice. Vape juice can be subdivided into the following product types:
10ml vape juice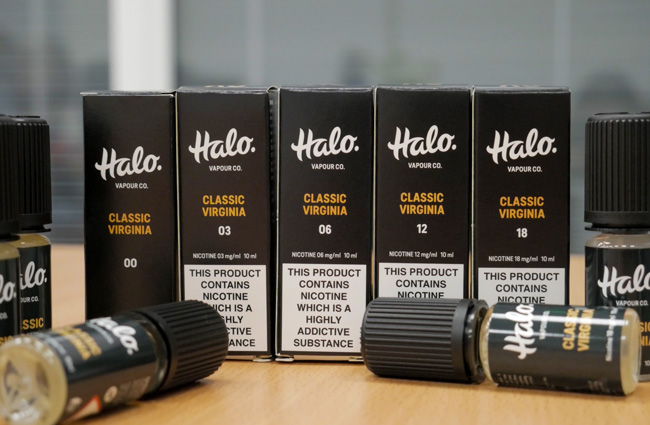 10ml freebase vape juice is the most popular form of e-liquid. The term 10ml came to be used after EU laws dictated that the maximum amount of nicotine-containing e-liquid allowed in a bottle was 10ml. Technically speaking, this type of e-liquid uses freebase nicotine, which is nicotine in its purest form.
10ml bottles come in a range of strengths. Each strength is represented in mg per ml. Each ml is equivalent to 0.1%. In the table below, we show how popular nicotine levels compare to different strengths.
Nicotine Strengths in E-Liquid
MG/ML
Strength in percent
0
0%
3
0.3%
6
0.6%
12
1.2%
18
1.8%
20
2%
Given the popularity of 10ml freebase e-liquid, it's a good idea to have at least a couple of ranges in your stock.
Top sellers include: Halo Vapour Co and IVG.
Nicotine salts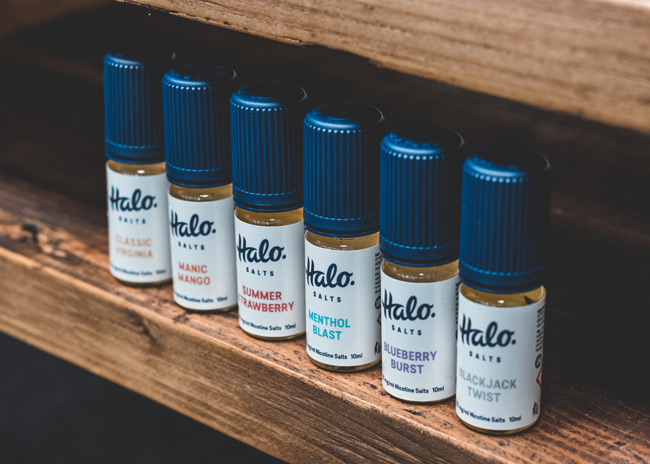 Nicotine salts are made with nicotine that has gone through a process in order to turn it back into the natural form of nicotine found in the tobacco plant. They have a smoother throat hit than standard freebase e-liquid, which makes them suitable for vapers who use higher nicotine e-liquids, and for those who prefer a smoother hit.
Nicotine salts are second in popularity to 10ml e-liquids, but sales are growing and we'd recommend having at least one range in your shop.
Top sellers include: Halo Salts and Dinner Lady.
Shortfills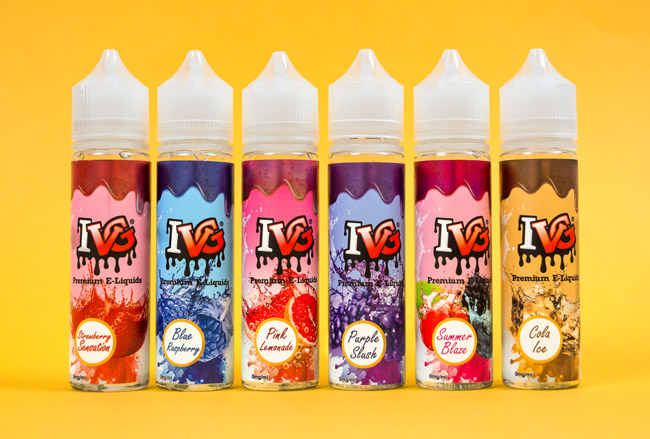 Shortfills are also known as 'Shake n' Vape' liquids. These come in larger bottles - typically 50ml or 100ml. As the law does not allow them to contain nicotine, they come with space to add a 10ml nicotine shot: a flavourless e-liquid that contains nicotine.
These rank third in terms of popularity but still have a large user base - particularly popular with more experienced vapers using higher-powered devices. If you choose to sell shortfills, you will also need to sell nicotine shots.
Top sellers include: Halo Shortfills and IVG.
Consumables
Replacement batteries
Most starter kit devices use fixed batteries. However, higher-powered mods and pods use replaceable batteries, typically 18650s or 21700s. These are sold separately from the main device. If you sell devices that use replaceable batteries, it's worth stocking these. Replaceable batteries vary widely in quality and suitability for mod devices, so it's important to stock a trustworthy brand such as Molicel.
Coils
Many vape devices use replaceable coils. Depending on the device, coils typically last anything from 2-3 days (for high-powered devices) to several weeks (for low-powered starter devices). It's important to ensure that you have coils that match the devices you sell, as typically customers will come back to you for their replacements.
Pods
Replacement pods for pod vape devices come in three forms: open pods with replaceable coils, open pods with fixed coils and pre-filled pods. As with coils, you need to carry pods that match the devices you sell.
Tank glass
Tanks can crack. Some of these tanks can be repaired with a replacement glass. These tend to be fairly low sales-wise, but if you sell the uber-popular PockeX, it's well worth carrying spares, as these do break easily when dropped.
Final thoughts
Do note that what people will buy can depend on where you are based and the trends and demographics in that area. The advice in this post will help you get started, but it's important to note what your customers are (repeatedly) asking for and adjust accordingly. Our expert customer service team can also help you get started, so do reach out for help and advice when you are putting your first order together!